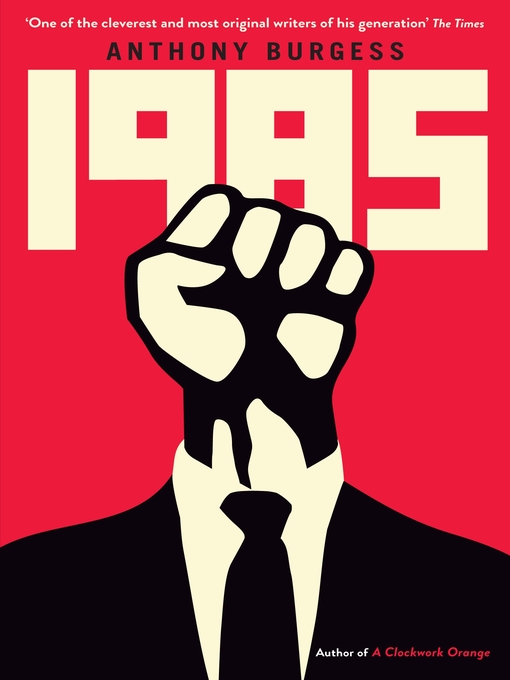 Yes, you read that right. 1985 is a novella and collection of essays by Anthony Burgess, author of A Clockwork Orange. You may think it sounds dry, a rip-off of Orwell's classic, but it's actually fascinating. Of course, you do need to be interested in dystopian fiction to really get engrossed in this, and it does help to understand about some of the general features of socialism and communism, but I'm weird and find that kind of thing wildly intriguing.
The essays analyse 1984, exploring the context in which it was written and what may have compelled Orwell to create such a bleak future. It looks at the ideology and construction of Oceana, and while it does tackle some complex ideas, they're usually expressed clearly. Burgess also begins to look to the future and wonders how Orwell would have envisioned it now, and if his ideas would have changed. Writing in 1978, Burgess has seen the world recover from two world wars and knows that the likelihood of Oceana become a reality is paper-thin.
Instead, he decides to picture the world seven years ahead – in 1985. He takes the current situation and escalates it, as Orwell did, but to a very different effect. Now, I was only born in 1992 so I don't know much about the 70s, but it seems that there must have been a lot of strikes (in the UK at least) and brimming tensions between the Islamic community and Eastern communities. These are the ideas Burgess brings into his novella.
He sees a England as a country converted to Islamicism; a multi-cultural landscape with children who are glued to their televisions and who have regressed to a state of primative sexuality. The main power is the workers, who strike on a weekly basis, resulting in regular powercuts, loss of transport or protection from police. It has become so that strikes are compulsory, and to return to work is to break the law – which, of course, our protagonist does. We follow his desperate attempt to refute society's imposed state of ignorance and laziness, desperate to find meaning in his life again when his wife is killed.
True to the bleak outlook of most dystopian fiction, it does not end happily, and you're left thinking, what was the point? However this may be Burgess's view of the future: will there be a point to maintaining our identity, when it is so likely to be sucked up in the corporate machine our civilisation is becoming?